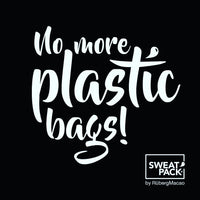 Our story!
We just love to storage things and that is why we developed Sweat Pack. A moisture tight bag for storing sweaty clothes, wet towel, smelly things or as a travel bag.
No mess - Keeps the moisture inside the bag

No smell - Keeps it inside for a whole day

Eco friendly - Produced without toxins

Reusable - Use it over and over again

Washable - Machine wash when needed
Use our bags instead of plastic bags!
Sweat Pack

For your swim wear or towel
Sweat Pack

For an active lifestyle
Sweat Pack

For your smaller things
Sweat Pack

For your training clothes and training gear
Sweat Pack

Keep your bag fresh
Sweat Pack

Organize your suitcase
Sweat Pack
For your swim wear or towel
Sweat Pack
For an active lifestyle
Sweat Pack
For your smaller things
Sweat Pack
For your training clothes and training gear
Sweat Pack
Keep your bag fresh
Sweat Pack
Organize your suitcase
Testimonials
Denna förvaringspåse för fuktiga träningskläder är fukttät, luktminimerande och snygg! Dessutom ekologiskt producerad och tvättbar.

Tidningen Hälsa
I like to do my cardio before work and afterwards I just put my training clothes in a Sweat Pack for the whole work day. It's just perfect. Keeps both the sweat and smell inside. Love it!

Thessan
Miljösmart förvaringspåse för yogakläderna. För dig och ditt liv, på och utanför mattan.

Tidningen Yoga World
Just the perfect bag for all those sweaty things. 

Anna
I started with one bag for me and then all in my family got one. 

Jessica